September 3, 2013
AND WE AIN'T SEEN NOTHIN' YET:
Automation Anxiety
: The automation crisis of the 1960s created a surge of alarm over technology's job-killing effects. There is a lot we can learn from it. (Daniel Akst, Summer 2013, Wilson Quarterly)
Related to this misunderstanding about consumerism was the idea that the time was nigh when people would hardly have to work at all. Harried families in today's suburbs will be astonished to learn that some critics even worried about what we would do with all that leisure time.




These ideas weren't as far fetched as they sound. In the first half of the 20th century, the number of hours worked per week had shrunk by a quarter for the average worker, and in 1967 the futurist Herman Kahn declared that this trend would continue, predicting a four-day work week--and 13 weeks of vacation.




There was a serious debate among many of the era's leading thinkers about whether all this leisure would be a good thing. Herbert Marcuse, the philosopher who served as an intellectual godfather to the New Left, was optimistic. He saw automation and the attendant increase in leisure as "the first prerequisite for freedom" from the deadening cycle of getting and spending which cost the individual "his time, his consciousness, his dreams." But Riesman and the influential psychologist Erich Fromm were among those who worried that people would be unfulfilledwithout work, or that work itself would be unfulfilling in an automated society, with equally unfulfilling leisure the result. As late as 1974, when the U.S. Interior Department drafted the Nationwide Outdoor Recreation Plan, people still thought they could see the leisure society just around the bend. And it was a good thing they could see it coming, too. As the Interior Department intoned, "Leisure, thought by many to be the epitome of paradise, may well become the most perplexing problem of the future."




Advocates on both sides of the automation debate thus fell into the classic extrapolation trap, assuming that the trends they saw in front of them would continue indefinitely. But as the old saying goes, even a train stops. You don't hear too many of those lucky enough to hold a job today complaining about having too much leisure on their hands.




The same unwarranted extrapolation was at work in thinking about household incomes. Many thoughtful people of the day, with no inkling of what we'd someday lay out for health care, higher education, and pets, just couldn't imagine that Americans would find a way to spend all the money the technology revolution would enable them to make.
Indeed, we work a four day week: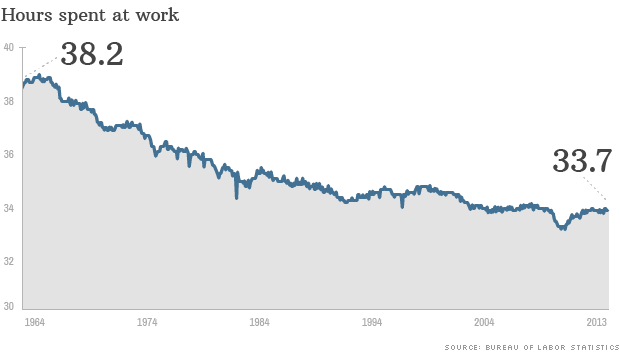 Which means that--if you were to think of the nation as a household--we could, today, pay off not just current debt but even all our unfunded liabilities out of our savings.
It's a common complaint: You feel like you're working constantly, and there's never enough time to enjoy life.

But as a whole, Americans are working far less now than they did a generation ago, and have more leisure time than ever.
Americans' net worth has shaken off the effects of the recession and hit a record high, according to data released by the Federal Reserve this week. Taken together, American households were worth $70.3 trillion in the first quarter, up $3 trillion from the fourth quarter of 2012 and well up from a recession-era low of $54 trillion. Household net worth is now even further past pre-recession levels; in 2007, household net worth was at $66.9 trillion.
Posted by Orrin Judd at September 3, 2013 4:39 PM

Tweet
blog comments powered by

Disqus