October 7, 2012
ALL THAT REMAINS ARE THE EMPTY CLOTHES:
When the hermetic, perfect world created in 2008 came into being, the Lightbringer at its center was protected from the moment of his nomination in a kind of numinous cloud of cultural, media and elite opinion protection.




Jokes about Obama, well...they just weren't funny. "It's hard to make fun of Obama in general because he's a cool character," said Jimmy Kimmel. Noah Rothman called it "Obama's prohibitive coolness."




Criticism of his policies and politics were obviously racist in nature...what other explanation could possibly obtain? Mockery of his pomposity, his flagrant sense of personal grandeur, his Administration-as-personality-cult was a product of Republican sour grapes (and, duh, racism).




Even the mild comedic hits on Obama in popular culture were anodyne, bloodless things and mostly along the themes of his coolness, his intellect, his perfection. He was the straight man to the GOP foil. He was the cool kid in the room full of conservative dorks. One famous incident of self-editing to protect the image of President Cool was a spiked SNL skit.




What strikes me about the New Yorker cover is that it not only clearly takes Obama down several pegs, but references the Eastwood moment of the RNC convention, which we were assured by our betters for several weeks was a disaster for the Romney campaign. Think about it: the New Yorker is mocking Barack Obama using an image from a gag from the Republican National Convention.




It's a singularity of irony, they just don't know it.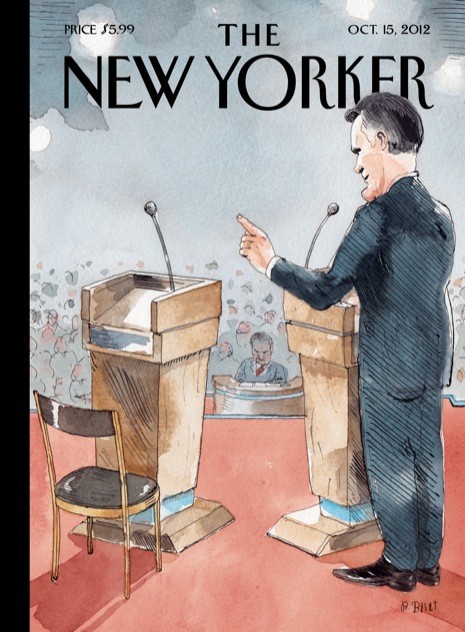 Posted by Orrin Judd at October 7, 2012 1:48 PM

Tweet
blog comments powered by

Disqus