September 14, 2008
GRIFOLICIOUS:
-Out of the Woods (Rob Patronite, Oct 18, 2004, New York Magazine)

1 pound hen-of-the-woods mushrooms
1/4 cup extra-virgin olive oil
4 sprigs fresh thyme
1 sprig fresh rosemary
2 tablespoons unsalted butter
2 tablespoons kosher salt
2 tablespoons fresh-cracked black pepper

(1) Turn mushroom over to expose the stem. With paring knife, remove the core of the stem.

(2) Using your hands, gently break mushroom into 8 pieces. In a 12-inch sauté pan, heat olive oil over medium flame. Season mushrooms with salt and pepper, and

(3) place them in the heated oil, taking care not to overcrowd the pan, and cook for 3 minutes. When the mushrooms have a golden-brown surface, flip them with a spatula and continue cooking for 2 to 3 minutes. Add butter and herbs, and baste mushrooms for 1 minute.

Drain on paper towels to remove excess oil, and serve.
The Boy and I walked the dog up the road today and an older fella came out of Balch Hill preserve toting a box on his shoulder. He was blocking his own view of the corner so we had to yell for him to stop before he walked out in front of an oncoming car. Talked to him a bit and he showed us what he had found: Hen of the Woods mushrooms (Grifola Frondosa), which he sells to the Hanover Inn. He thought he had about $400 worth--flatlanders pay up to $30 a pound for them--but was nice enough to share some with us. We fried them up in a pan with olive oil, garlic, salt, pepper, and green pepper and they're fleshy and earthy and quite tasty, even if you don't typically like mushrooms.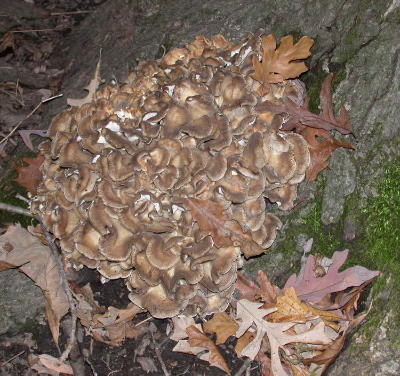 MORE:
-WIKIPEDIA: Grifola Frondosa
-The Hen of the Woods, AKA Maitake: A bountiful Fall fungi fond of the mighty Oak tree (Forager Press)
-Grifola frondosa, the Hen of the Woods, a.k.a. Sheepshead or Maitake (Nik Zitomer and Tom Volk, Tom Volk's Fungus of the Month for November 2006)
-HEN OF THE WOODS: (also known as MAITAKE,RAMSHEAD or SHEEPSHEAD MUSHROOM): Scientific name: Grifola frondosa (David Fischer's American Mushrooms)
-Grifola frondosa: The Hen of the Woods (Michael Kuo, MushroomExpert.com)
-Hen-of-the-Woods (Grifola frondosa): Anyone Know a Quick Way to Clean, Cook, and Store 80 lbs. of Hen-of-the-Woods in less that 80 hours? (Wildman Steve Brill)
-Hen of the Woods Mushroom (RecipeTips.com)
-Fungi Perfecti
Posted by Orrin Judd at September 14, 2008 1:39 PM

blog comments powered by

Disqus