November 8, 2015
AND YOU THINK TRUMP IS AN EGOMANIAC?:
Ben Carson's house: a homage to himself - in pictures
(The Guardian, 11/07/15)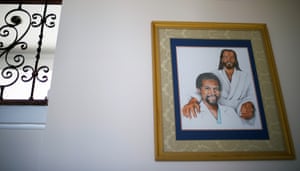 At least the Donald makes no pretense at humility.
Speaking to reporters in Florida, where he has been on a book tour this week, an uncharacteristically animated Carson accused Politico of telling "a baldfaced lie" in reporting had walked back his claim of receiving a scholarship to the U.S. Military Academy at West Point after the publication questioned the lack of evidence for it. "I never said I got a scholarship," Carson said.[...]

Carson's campaign described the controversy as a misunderstanding. "They told him they could help him get an appointment based on his grades and performance in ROTC. He considered it but in the end did not seek admission," campaign manager Barry Bennett told Politico. Later, Bennett acknowledged in an interview with Bloomberg Politics that the candidate, in his autobiography Gifted Hands, made a "marginally bad word choice" in describing the experience with West Point.

But Carson himself, when asked by the Christian Broadcasting Network if he had any regrets about writing that he was "offered a full scholarship to West Point" in his 1992 book, defended his characterization.
Posted by Orrin Judd at November 8, 2015 8:53 AM